Fuck all. With cartoons! 
Do you know who is following those big accounts with severely disproportional follower percentages?
Accounts that haven't Tweeted, or been back to Twitter, in anywhere from a month, or more, sometimes since the day the account holder decided to find out what "this Twitter is about".
HUGE accounts who are on Twitter to purely peddle books, films, entertainment, information…who never read a Tweet.
Porn bots, until they get suspended…which can be weeks, even months.
Tons of dead accounts.
PURCHASED FOLLOWERS
Who the fuck cares.
So, when you look at a follower count and think "this person doesn't follow everyone back, they are an asshole"…Think.
Think…why would they…keep following dead accounts, spam accounts, accounts that don't have a real person behind them, only automated applications used to monitor Twitter…people who tweet about stupid fucking shit all day, like "Oh, I'm going to the bank now" who don't make it "interesting"…accounts that all they do is quote music, people from history, poetry other people have written, lines from movies.
Having said that, someone who is following less than 1000, who has over 7000 followers is simply in Twitter for "the game"…you know the "game". *coughs* Favstar. (likely…though not always)
Want to follow accounts that you'll enjoy? Follow who you find funny, regardless of their follower account.
Don't worry about how many people they are following back…be interesting if you want followers, if you're not interesting people won't keep following you just because they initially followed you back anyway.
Twitter is layers of entertainment, communication, social networking, etc.
Even we follow people who don't follow us back…people we find funny. Want honesty? Almost 1/3rd of our followers are people who haven't been on Twitter in months, some since we started Tweeting October 13, 2010. It's why we're not following them back, why would we?
Follower accounts represent jack all at the end of the day, the same as follower account means jack all in off-line life…
But whatever.
You keep thinking it matters, we'll keep not giving a fuck about THAT.
For the love of all that is sanity, we plan to start unfollowing people who keep making Tweets about needing followers, or the amount they need to get to some stupid fucking follower account achievement.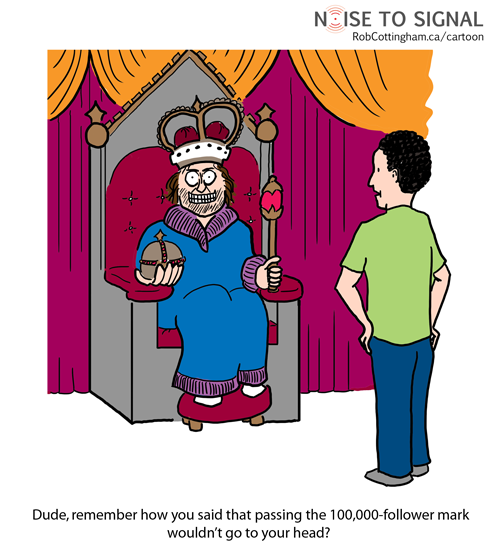 Like we've said, we never came to Twitter to be fucking "popular", we plan to leave the same way we came in.